The Twitter social platform has become one of the key places to find and engage with a target audience. Twitter PPC can be a great way for your brand to gain more exposure by helping you to achieve Key Performance Indicators (KPIs) i.e. brand awareness and increasing leads and sales. Recent statistics show that worldwide as per the second quarter of 2021 there are currently 206 million daily users, with the United States currently having the highest number overall with 73 million users.
Tweets are limited to 260 characters in length and a single Twitter account is able to follow up to 400 accounts per day, with verified Twitter accounts able to follow up to 1,000 accounts per day. Launching a paid Twitter advertising campaign is worthwhile to consider to help maximise the full potential of the platform and fulfil your business goals.
Types of Twitter advertisements
There are currently three options for advertising on Twitter, these are:
Promoted tweets – the most popular type of Twitter ad, it involves promoting a tweet so it reaches a broader audience to help improve brand awareness, promote products and generate leads.

Trend takeovers – these appear in the first or second position on the "Trends for You" section under the Explore tab. They are most effective when used for launches, company news and event promotion.

Follower Ads – this involves promoting your Twitter account to increase your exposure and expand your reach to a new audience. Twitter will suggest your profile to users who don't currently follow you but might be interested in your profile and content. The ad will appear in a user's timeline, the "Who to follow" section, and search results. 
All three are labelled as "Promoted" in Twitter users' feeds in order to separate the advertisements from other accounts that may be recommended to them. The highlighted section in the image below shows an example of a trend takeover: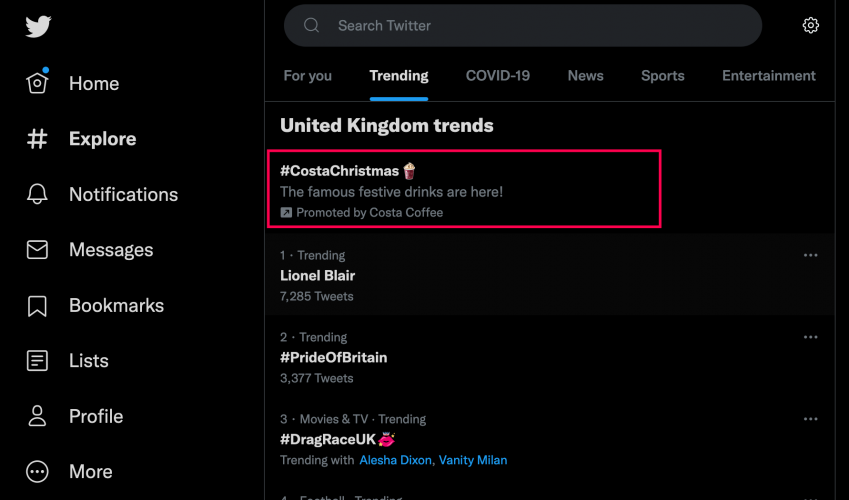 Performance-based marketing
A key difference between Twitter and advertising on other social platforms is with Twitter you only pay for performance. Prior to setting a campaign to run you have to define objectives which could be:
Engagement
Conversions
Increase follower count
If your campaign objectives are not met and you are not seeing results, you don't pay.
Target a specific audience
Twitter allows you to target a particular audience through the 'Custom Audiences' feature. This allows you to upload an email list in the form of a CSV file generated by your CRM for example, to really zero in on your target audience, it currently allows for three types:
Lists – Upload a list of email addresses or use Twitter @names to target influencers relative to your niche.
Website Activity – Target people that have recently visited your website, you can collect this data by adding the Twitter tag to your website.
App activity – Target groups of people who have installed your app or signed up, you can collect this data with mobile app conversion tracking
Cost-per-click
Twitter has the lowest cost-per-click of any social platform, as of 2021 the average cost-per-click (CPC) is $0.38. In comparison to Linkedin, which has the highest CPC at $5.26, Facebook at a CPC of $0.97. With the Twitter ad platform being performance-based as well this means you only pay when you see results, which makes advertising on Twitter very cost-effective.
Structuring your advertisement
When you're in the process of structuring your first Twitter campaign, there are a few elements to be mindful of:
Use high-quality eye-catching images – a Twitter user's feed can get very busy and easily distract them, therefore it's important you carefully select an image that will focus the attention of your target audience.
Engaging copy – just like the image should engage your audience and get their attention, the copy also needs to do this. It should be kept short, to the point and compelling enough to get your prospect to click through.
Include a Call to Action – your ad should always include a Call to Action button to guide your prospect to the next step.
Use hashtags sparingly – hashtags can be a great way to get more visibility, however, they can distract your prospect if they click through and see other tweets and ads, therefore you should carefully select your hashtags and use no more than two.
Monitor your analytics – once your ad is up and running, monitor the data to see how it's performing, example metrics you should take note of include; impressions, engagement, engagement rate, click-throughs and Cost-per-result (CPR). These of course will vary according to the Key Performance Indicators you defined before running the ad.
Conclusion
Advertising on Twitter has many advantages with features like being performance-based, custom audiences, and having the cheapest CPC of any of the social platforms. It's definitely worthwhile factoring in Twitter as part of your overall social media marketing strategy. If you need help and advice setting up your first Twitter PPC campaign, feel free to get in touch with us and we will be more than happy to assist.