Searching for contact information for potential new leads for your business is not often an easy task and can end up being very time-consuming involving scrolling through Google search results, Linkedin and then trying to verify if the data you've collected is accurate. This is where ContactOut comes along to make finding information such as email addresses, phone numbers and social media profiles a much more faster and efficient process through the software and data resources it provides. We are excited to announce we recently established a brand partnership with ContactOut and in this article we will take a look at what their platform has to offer.
How can I make use of this?
The platform is primarily designed for recruitment and sales professionals providing features for each group of users that both can utilise for their own specific needs in order to quickly find the email addresses and phone numbers for target contacts, it can even verify this data for you.

There is a handy Chrome extension which integrates with Linkedin, Sales Navigator and Linkedin Recruiter to source contact data, the extension also interestingly works on top of Github which is ideal for those looking to recruit software engineers. A feature we found gives ContactOut an edge over its competitors is it can find personal and work email addresses, this allows you to reach out to your leads even if they are not using a work email address.
Here is an example of how the ContactOut Chrome extension works on a Linkedin profile: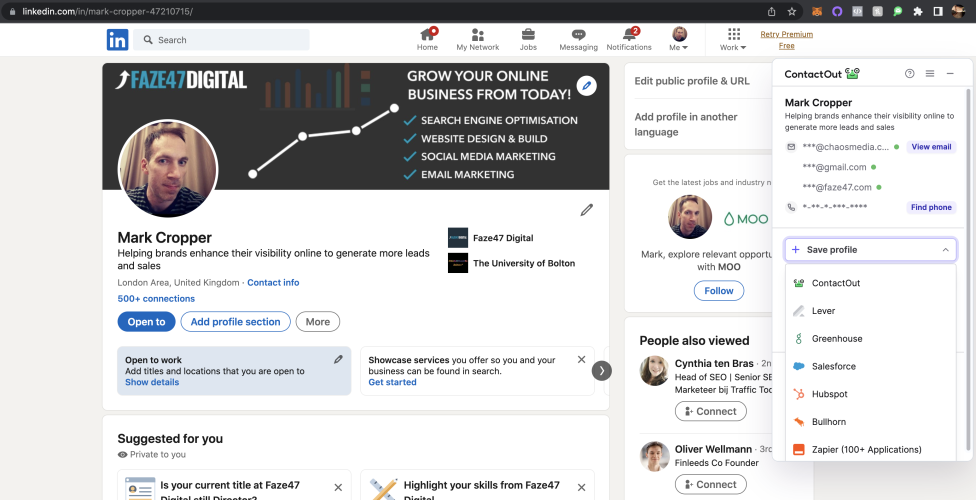 Once you have the Linkedin profile of a prospect you can then choose to save the details to your CRM platform, currently supported are Lever, Greenhouse, Salesforce, Hubspot, Bullhorn and Zapier. ContactOut can also function as an email service provider for you to send out your cold outreach email campaigns, you can save the details directly to an email distribution list for the campaign, this is great for streamlining the entire process and will save you a lot of time.
How does ContactOut find this data?
ContactOut uses servers and artificial intelligence match processors in order to gather emails and phone numbers and matches an email to an individual with an accuracy rate of about 99%. There are around 1.2 billion emails and more than 50 million phone numbers contained in its database with around 75% of this data coming from Linkedin. With such a high accuracy rate it gives you confidence knowing the data you're collecting is verified and you don't have to go through extra steps to ensure this.
Email campaigns
As mentioned earlier ContactOut has the ability to create, deploy and track email campaigns using the data you've collected from Linkedin, it can also create a cold outreach email template through some cool AI functionality that generates the content for you as shown in the example below: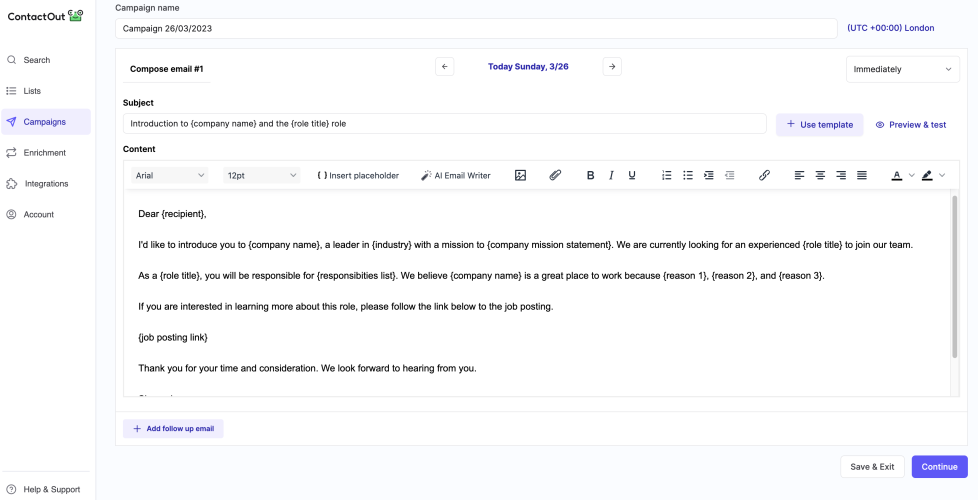 This is a great feature to save you even more time and having the email campaign builder directly integrated into the platform like this provides you with a basic CRM system.
Search portal
Another key feature of the platform is a search portal which enables you to find leads using a series of filters based on the criteria of the person you're looking for, the search results are presented through an intuitive interface and you can save them or export them to a CSV file. In addition to searching for people, you can also search from a list of over 26 million companies for "decision makers", if you're familiar with Sales Navigator on Linkedin you will know this is a very useful feature to have at your fingertips.
Enrichment
Enrichment is another very useful feature available in the ConactOut dashboard. If you have a list of email addresses, LinkedIn URLs, or company domains collected in a CSV file, you can upload this and it will add relevant data that might be missing. This is a great tool for further verification of existing data you have and helps you to build a more comprehensive profile of your contacts.
Pricing
ContactOut currently has the following pricing packages available:
Free – a completely free version, access to 40 emails and 3 phone numbers, it can only be used on the standard version of Linkedin.
Sales – $79 per month, access to 6,000 emails, 600 phone numbers, works with Linkedin Recruiter Lite & Sales Navigator, limited integration with ATS & Salesforce.
Recruiter – $199 per month, 12,000 emails, 600 phone numbers, works with & all versions of LinkedIn, full integration with ATS & Salesforce.
Team – this is a custom package which includes everything in the Recruiter package plus additional features based on the size of your team and data requirements. It also includes enterprise-level support.
These packages are competitively priced and cater for small businesses all the way up to large-scale enterprises. Having a free version you can trial for an unlimited time will give you insight into how you can best make use of the features based on the needs for your business.
Conclusion
Overall we were very impressed with ContactOut. The Chrome extension enables you to very quickly start collecting lead information and the intuitive user interface and features such as email campaigns and the search portal make this software a great resource for your business. We will certainly be making use of it to improve our own lead generation and cold outreach processes, for more information visit https://contactout.com/.