Following on from our post on pay-per-click (PPC) advertising on Twitter we thought it would be appropiate to go into some more details on Promoted Tweets and how best to leverage these so you are getting the most value from them.
If you're an active Twitter user you will have no doubt seen tweets with the label "Promoted" on your timeline. These are just like regular tweets except they are sponsored by advertisers who wish to reach a broader audience to acheive more engagement and gain more followers, Twitter PPC campaigns could be an effective tool to leverage for your business.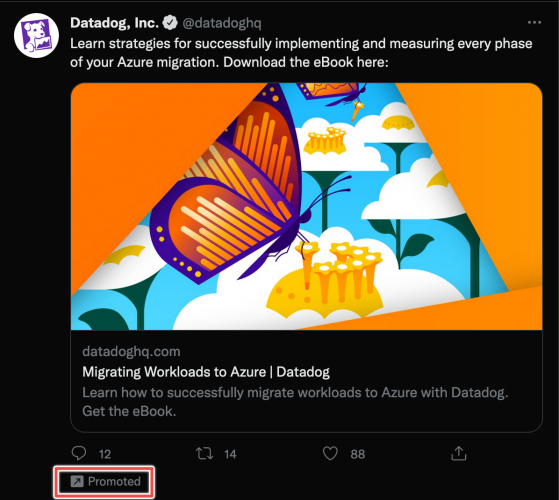 What are some of the key benefits of Promoted tweets?
Enable your content to be viewed by a wider audience increasing engagement and gaining more followers in the process.
Engagement rates can be high as 1-3%, much higher when compared with Facebook Ads click-through-rates at 0.119%.
They appear in a users timeline so look naturally integrated with organic content therefor they are more likely to enagage and click through to your website or landing page increasing your traffic and leads and conversions.
Promoted Tweets are highly visible as opposed to off to the side in a column like on Facebook Ads, mobile users are also able to more easily.
They create more overall brand awareness for your business.
Of course promoted tweets aren't the only option if you're looking to run a paid campaign, there's also Trend Takeover's and Promoted Accounts, these additional options enable you to diversify your Twitter marketing strategy to further expand reach.
How about potential disadvantages?
We discussed some of the benefits or Promoted Tweets and using Twitter Advertising, there are of course some potential risks:
If engagement is low on a Promoted Tweet it will slowly disappear and stop appeaing in users timelines.
Promoted content can annoy some users and may cause some negative engagement.
You are restricted to a 280 character limit which depending on the nature of the advertisement can make it tricky to communicate your brand message effectivey but your ad copy writers will adapt to this over time.
Demographic targeting metrics aren't as detailed as on Facebook Ads, but they have improved a lot since the ealry inception of Twitter.
A lower number of active users compared with Facebook;Twitter currenty has 232 million daily active ucers compared with Facebook at 1.908 billion users daily. Whether this is a disadvantage of course depends on the social platform where your target audience is mainly based.
Twitter Key performance Indicators (KPIs)
In order to effectivley measure the success of your promotred tweet you will need to identify some Twitter Ads KPIs, they will depend on the specific nature of your campaign but here are some examples;
Engagement rate – how you measure engagement could for example be the number of likes, comments, retweets and shares of your Promoted Tweet. A more specific metric could be the click-through-rates (CTR) through to your website or landing page.
Impressions – impressions refers to the number of times your tweet appears in users timelines, it should be combined with other metrics such as engagement to really gauge the overall performance of a Twitter campaign. This is where your selected hashtags really has a bearing.
Increase the number of followers – this could be the sole objective of your campaign or simply an additional benefit if you're looking to promote a product and gain click-throughs to your website etc.
Increase the number of profile visits – if you're aiming to icnrease your follower count then profile visits will be a metric to consider when measuring the overall performance of a Promoted Tweet.
Increase mentions – a mention is a Tweet that contains another accounts @ in the body of the reply or tweet, they can be very useful in helping you to acheive engagement on your content or increase your number of followers.
Return on investment (ROI) – always an important factor with a PPC campaign, by tracking leads and conversion rates from your Tweets to your website you will be able to quantify the overall ROI of the campaign.