Google is without question the current number one choice for search on the Web. As of June 2021, Google had a market share of 87.76 per cent for search on desktop and mobile devices. There are alternative search engines such as Bing and Yahoo however, a new potential competitor for Google has recently emerged called DuckDuckGo.
Thanks to commercial agreements, Google has been able to command a large market share, these agreements led to a well-publicised antitrust lawsuit in 2020 where Google was accused by the US Department of Justice of suppressing competition in Web search. Together with this and the privacy issues that have arisen in recent years regarding the collection of user data, have led many search users to look for more privacy-based search engines.
What is DuckDuckGo?
Founded in 2008, DuckDuckGo is a search engine built on transparency. By using DuckDuckGo to conduct a Web search you will remain anonymous which means your search history or IP address won't be collected and you won't see any re-marketing ads. It has a relatively small share of the search engine market but it is steadily growing, earlier in 2021 DuckDuckGo recorded over 100 million searches in one day for the first time.
DuckDuckGo has a small team of around 45 people based in various locations around the world, in comparison to Google which is a publicly traded company with over 135,000 employees, DuckDuckGo is tiny but the company is slowly starting to establish itself and gain more active users.
Search results
DuckDuckGo returns its search results format in a similar format to Google. There are 10 organic results per page, display adverts, and rich results usually in the form of a knowledge panel on the right-hand side displaying information from sites such as Wikipedia. DuckDuckGo also provides 'Instant Answers' which is similar to Google's Featured Snippets, related searches, and options to view search results from the web, images, video, news, maps and shopping. There are also maps listings provided by Apple Maps.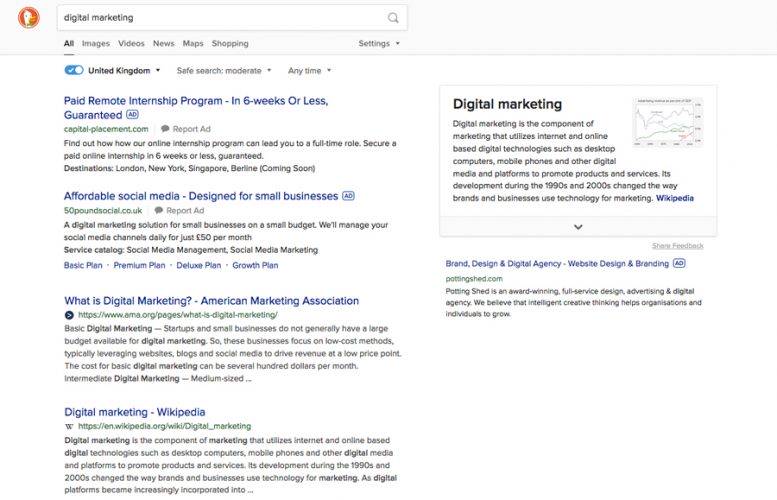 Conclusion
Google will still have the majority market share for online search for the foreseeable future, but its good other platforms like DuckDuckGo are here to provide an alternative option to users who are concerned about protecting their privacy. Perhaps you have recently discovered your target audience likes to use alternative search platforms and are looking to improve the visibility of your business website in these results. We are ready and waiting to assist you with this so please get in touch with us and we will be happy to help you formulate a strategy for this.